Dancing With the Stars said goodbye to Dr. Eva Orsmond and dancing partner Sean Smullen this evening, with the pair finding themselves at the bottom of the leaderboard and didn't receive enough of the public vote to go through
Judge Julian Benson was feeling under the weather so Creative Producer of Dancing with the Stars Darren Bennett stood in to give his opinion on the celebs' fancy footwork. Here's how the evening went down:
What a start!
Aside from Nicky bringing the 'dab' to the dancefloor, Denise McCormack, who has been a frontrunner for the past few weeks, blew away the judges in what was a whirlwind start to the show.  She rung in the start of week 5 with a brilliant Salsa, made all the more impressive given that her partner Ryan McShane was sick during the week.
Denise and Ryan certainly raised the bar for the rest of the evening, with the judges giving her a high score of 27, with Julian Bensons replacement for the week Darren Bennett saying she "not only hit the dance floor, you absolutely smashed it," before adding "you worked it and you twerked it," which brings us to….
Darren Bennett replaced Julian Benson with aplomb
Julian Benson was struck down with flu this week, so former Strictly champion and show creative producer Darren Bennett stepped into the breach.  Darren was a pro dancer on Strictly Come Dancing so was well placed to give his opinion.  He laid out his stall early on insisting he wanted to see "quality musicality and consistency, as well as blood sweat and glitter," before saying he wouldn't be trying to be Julian for the night, claiming, "I tried wearing Julian's jacket, but it's just me tonight."  He brought his own flavour to the judging table, and delivered big time.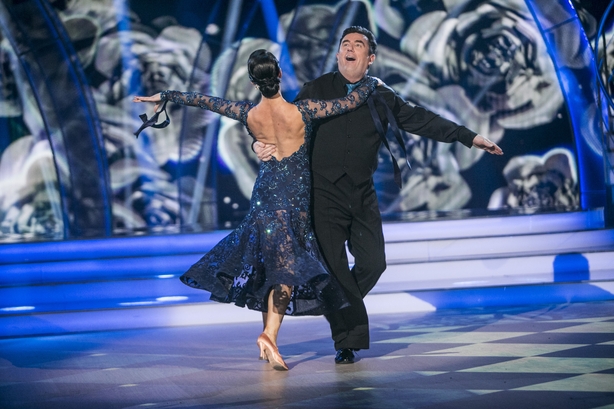 Des delivers yet again
Des has become a sensation these last two weeks, and despite attaining lower scores than a majority of his colleagues, he has won over the voters at home, however before he took to the floor he said, "I want a proper score."
Dancing the Tango with his partner Karen, we saw a more serious Des Cahill, as he moved on from Austin Powers and the "Dessie swim" with Des saying, "I've got to show the people I can dance".  Judge Darren Bennett was quick to reassure him, saying, "Dessie you can Dance!" Despite the judges pointing out a few minor errors, Des came away with a solid score of 18, including his first 7 of the competition from Lorraine Barry, who said "I'm excited for what you can produce next week".  We were also this week introduced to the "Dessie Smack", we're expecting something new again after he and Karen were the first act through to next week.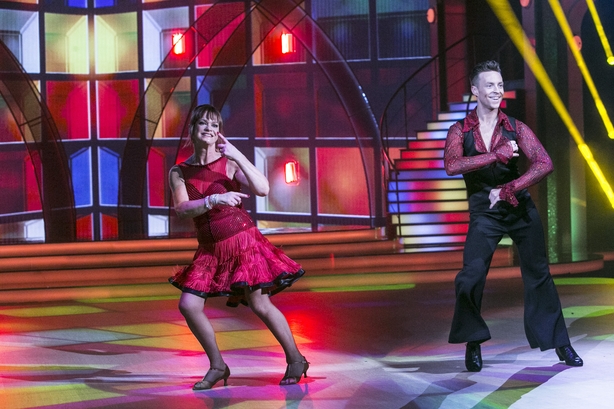 Teresa Salsas up a storm
Teresa Mannion served up a brilliant salsa, earning a respectful score of 16.  The RTÉ News journalist was solid in her performance alongside partner John Nolan.  Tackling 'Boogie Wonderland' by Earth, Wind and Fire, Teresa was told she had "brought a confidence that she didn't have before".  Judge Darren Bennett summated her performance in saying that there was "No doubting the performance, it was everything in that routine, most of the beats you did hit tonight" and called it "A great performance".
From boy to man, in one week
Hometown's Dayl Cronin said before his dance he needed to bring A-game yet again, and boy did he deliver.  Dayl has been delivering solidly week in week out, up alongside Denise McCormack and Aoibhín Garrihy, and topped the leaderboard last week. Dancing to the Goo Goo Dolls 'Iris' he couldn't put a foot wrong, and the judges certainly took note, giving him a high score of 26, just one behind Denise.
As they waltzed away we certainly saw him channel his inner romantic, and the chemistry between him and partner Ksenia Zsihotska certainly shows.  Judge Darren Bennett showered praise on the singer, saying he went "from boy to man in one week".
As the lyrics to 'Iris' say, "I just want you to know who I am", we certainly do now Dayl!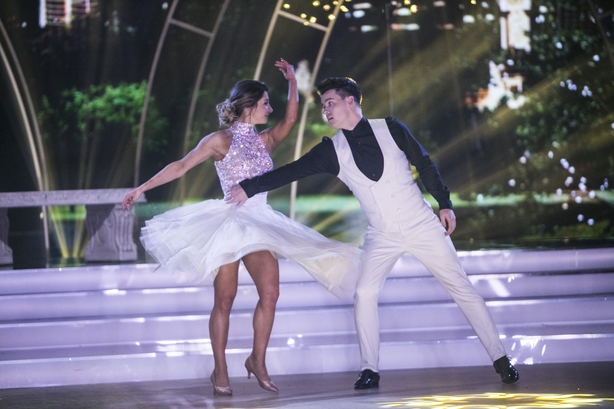 West side story, Leitrim style!
Irish comedian Katherine Lynch fox-trotted her way across the dancefloor to Ella Fitzgerald's 'Summertime', and revealed that throughout the week she consistently told herself she needed to get higher up on the scoreboard.  Lynch said she worked hard on her performance during the week, and proclaimed her dance to be "West side story, Leitrim style!" Loraine Barry praised Lynch, saying that her dance "gave us a glimpse into your soul"
The Mohill native attained a high score of 22, and proclaimed that she "got her mojo back this week".  The comments she got from the judges certainly reflected that, with Darren Bennett calling her foxtrot, "soft, feminine, and demure", and with Brian Redmond calling it "easy on the eye… fluid and elegant."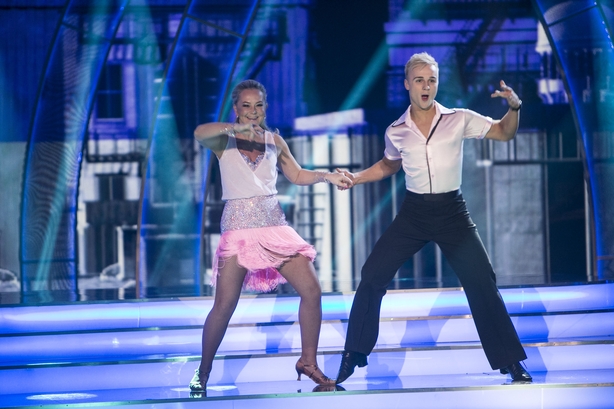 "I had fun and that's all that matters"
Dr Eva said she was "in a fighting mood and not going home" before the show.  Unfortuinaly home is where she is heading after her and partner Sean Smullen took on Martha Reeves' 'Nowhere to run' by dancing the Cha Cha Cha.  By the end the pair were visibly exhausted, and while Dr. Eva pointed out that there were mistakes in their routine, she said, "there were some mistakes but I had fun and that's all that matters!" We couldn't agree more Dr. Eva!
Dancing partner Smullen said they "deserved more" on last week's performance, and they were definitely chomping at the bit to please this week.  However their score of 14 from the judges was the lowest of the week.  Brian Redmond said she had, "some nice leg actions", however she needed "to perform with more energy", while Darren Bennett said, "I wanted to see the fiery Dr Eva we saw I the video and we didn't get that, for me it wasn't good enough."  Dr. Eva drew an "awww" from the crowd as she proclaimed, "clearly I'm not a natural dancer".
Time for another chemistry lesson
"Pay attention kids, it's time for another chemistry lesson," was how host Amanda Byram teased us for Aobhin Garrihy's performance, following her brilliant performance last week, and boy were we treated to one.  Her and partner Vitali joined Dayl Cronin and Ksenia Zsihotska in tackling the Viennese Waltz to Arianna Grande's 'Dangerous Woman'.  The chemistry was perfect, as they matched each other step for step, something which judge Lorraine Barry clearly picked up on in saying, "you danced all the natural actions and reverse actions with a flowing movement which is very difficult to do, a superb performance."  A score of 25 was just reward for a brilliant performance, with judge Bennett calling it "very intimate".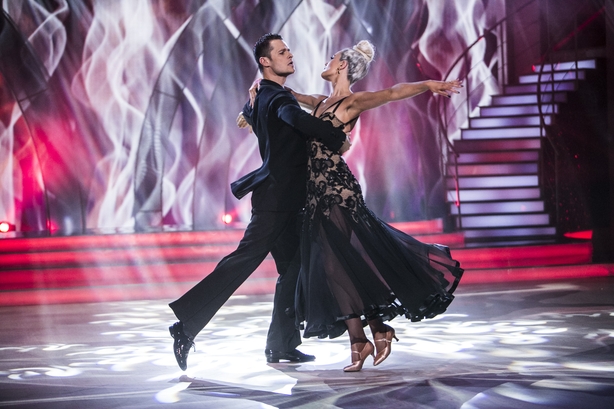 "From Licence to thrill to license to get your breath"
Funnyman Des Bishop brought more charisma in spades this week, following up on his 007 performance last week with a Cha Cha dance fused with Hip-Hop.  Des had the audience on their feet as he and partner Giulia Cha Cha Cha'ed their way to a brilliant score of 24, the highest score for a Cha Cha so far in the series.  "License to get your breath, license to ill", proclaimed Bishop, who despite a solid performance, ended up in the bottom 3 alongside Katherine Lynch and Dr. Eva.  Brian Redmond praised Bishop, saying he was "Doing it for the 40-somethings".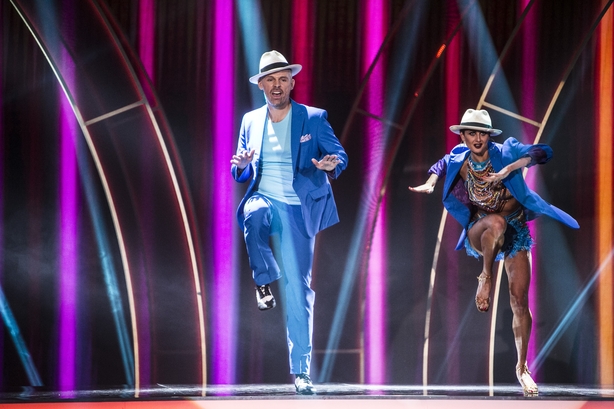 Posture makes perfect for Aidan
Channelling his inner Fred Astaire to some American Smooth in the form of 'My Baby Just Cares for Me' by Michael Buble, and looking suitably dressed for the red carpet, former Kerry footballer and All-star Aidan O'Mahony finally got the praise for which he so craved, his posture.  The former football ace went to ballet classes to improve it after weeks of comments from the judges concerning his posture, and he insisted the week was "draining".  O'Mahony and partner Valeria Milova earned a score of 21, with judge Brian Redmond praising him, citing, "Overall much better posture and a great foxtrot, with Loraine Barry saying he "brought his A-game"

——————————-